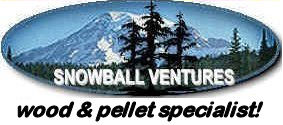 Home

About Us

Links

Products
Pellet & Acc.
Wood Stoves
Wood Inserts

Installations


Wood Pellet Furnaces

The last century saw a dramatic change in central heating systems, from wood and coal, to oil, to heat pumps and natural gas, and back to wood again. Today, nearly all central heating systems are dependent upon electricity, natural or propane gas, or oil as a fuel source. The convenience of these modern heating systems has not come without its price tags and certain realities. Dependence on non-renewable energy resources over the past 30 years has taught us that:

The supply of oil and gas is limited and NON-RENEWABLE
Electricity, oil, and gas costs will increase as supplies decrease
If we remain dependent on these sources of energy, we will definitely face an energy crisis again
If we don't learn from the past we are doomed to repeat the mistakes of the past
We must look to central heating systems that utilize renewable energy sources

Wood furnaces burn a renewable resource, yet they require hard work to stoke and typically are not very efficient, either with heat transfer or combustion efficiency (emissions).



The Traeger GBU-070 wood pellet furnace has been designed to meet the heating needs of an average size home (up to 2000 square feet.) With a fan forced draft, the applications are flexible.
The GBU-070 uses a solid state control board which allows the unit to be operated from a wall thermostat and it has a built-in pilot. The GBU-070 can be used as an add-on furnace or a primary furnace. It can also be used in many shop applications.





The Traeger GBU-130 wood pellet furnace can be set from 85,000 to 130,000 BTU, giving it a wide range of heating for larger homes and commercial use (2000 - 4000 square feet.)
The GBU-130 has a wide variety of available installations. It can be upflowed or downflowed. If height is a concern, it can be used in a lowboy configuration. A domestic hot water option is also available so you can heat your home and hot water at the same time.







The Caddy Alterna is a 120,000 BTU warm-air pellet furance with a hopper capacity of up to 240 pounds and additional input configurations of 60, 80 and 100 thousand BTU. Thermostatically controlled and available with an optional fresh air intake adapter and optional hot water loop kit for preheating domestic water, it's a perfect heating device for Canadian winters and homes up to 3,000 square feet.


Snowball Ventures - Your Wood & Wood Pellet Heating Specialist
---
US & overseas visitors please click here.
HOW TO CONTACT US:

President: John Billwiller
Phone: (250)442-2943
E-mail:
Regular Mail: 10545 Granby Rd.
Grand Forks, BC, Canada V0H 1H1

(Snowball Ventures is conveniently located 10 ½ km north of Grand Forks at 10545 Granby Road.)



| | | | |
| --- | --- | --- | --- |
| Member of: | | | |
| | | | | |
| --- | --- | --- | --- | --- |
| Director of: | | | | |
---
Last updated March 15, 2013
Site design by: