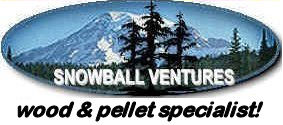 Home

About Us

Links

Products
Pellet & Acc.
Wood Stoves
Wood Inserts

Installations



Thelin Pellet Products

These parlour type wood pellet stoves, manufactured in California, are available as illustrated or with custom baked enamel coatings in burgundy red, cobalt blue, teal green or ivory. They utilize 12 volt DC electronics allowing them to be independant of the power grid.





The little Gnome wood pellet stove is designed to heat from 500 to 1000 square feet and is ideal for a back room, addition, cabin or mobile home. Standing just 34 inches tall (.85 metres), the Gnome can fit where other box-type wood pellet stoves are simply too large. The Gnome can burn up to 20 hours on a single load of wood pellets and its simplified control system allows the user hours of trouble free heat.




The Parlour wood pellet stove combines state of the art technology with an environmentally friendly fuel source to produce the warmth and ambience of a wood fire. Its simplified control system and multiple safety features allow for hours of trouble-free heating. It is 42 inches tall (1.05 metres) and will heat approximately 1500 - 2500 square feet.



Snowball Ventures - Your Wood & Wood Pellet Heating Specialist
---
US & overseas visitors please click here.
HOW TO CONTACT US:

President: John Billwiller
Phone: (250)442-2943
E-mail:
Regular Mail: 10545 Granby Rd.
Grand Forks, BC, Canada V0H 1H1

(Snowball Ventures is conveniently located 10 ½ km north of Grand Forks at 10545 Granby Road.)



| | | | |
| --- | --- | --- | --- |
| Member of: | | | |
| | | | | |
| --- | --- | --- | --- | --- |
| Director of: | | | | |
---
Last updated March 15, 2013
Site design by: